Huckleberry Bar, Located in Williamsburg, Brooklyn, is a destination for craft cocktails.
Huckleberry Bar has been serving craft cocktails and small plates on Grand Street in East Williamsburg, Brooklyn for over 10 years. Both a destination and neighborhood favorite, Huckleberry Bar offers something for everyone.
The menu features a refined list of seasonally-driven classic and original cocktails, a wide spectrum of craft beers on tap and in bottle, and an eclectic collection of wines both old world and new. Though it's just about the best bar in East Williamsburg for a date, the atmosphere is just as dynamic as the menu; it's the perfect place to enjoy a sunny day from the shade of our lush garden, to relax by candlelight on weeknights, or to get your nightlife fix on the weekends with some of Brooklyn's best DJs.
Phone
(718) 218-8555
Location
588 Grand Street
Brooklyn, NY 11211
Hours
M-F 4pm–4am
Sat-Sun 1pm–4am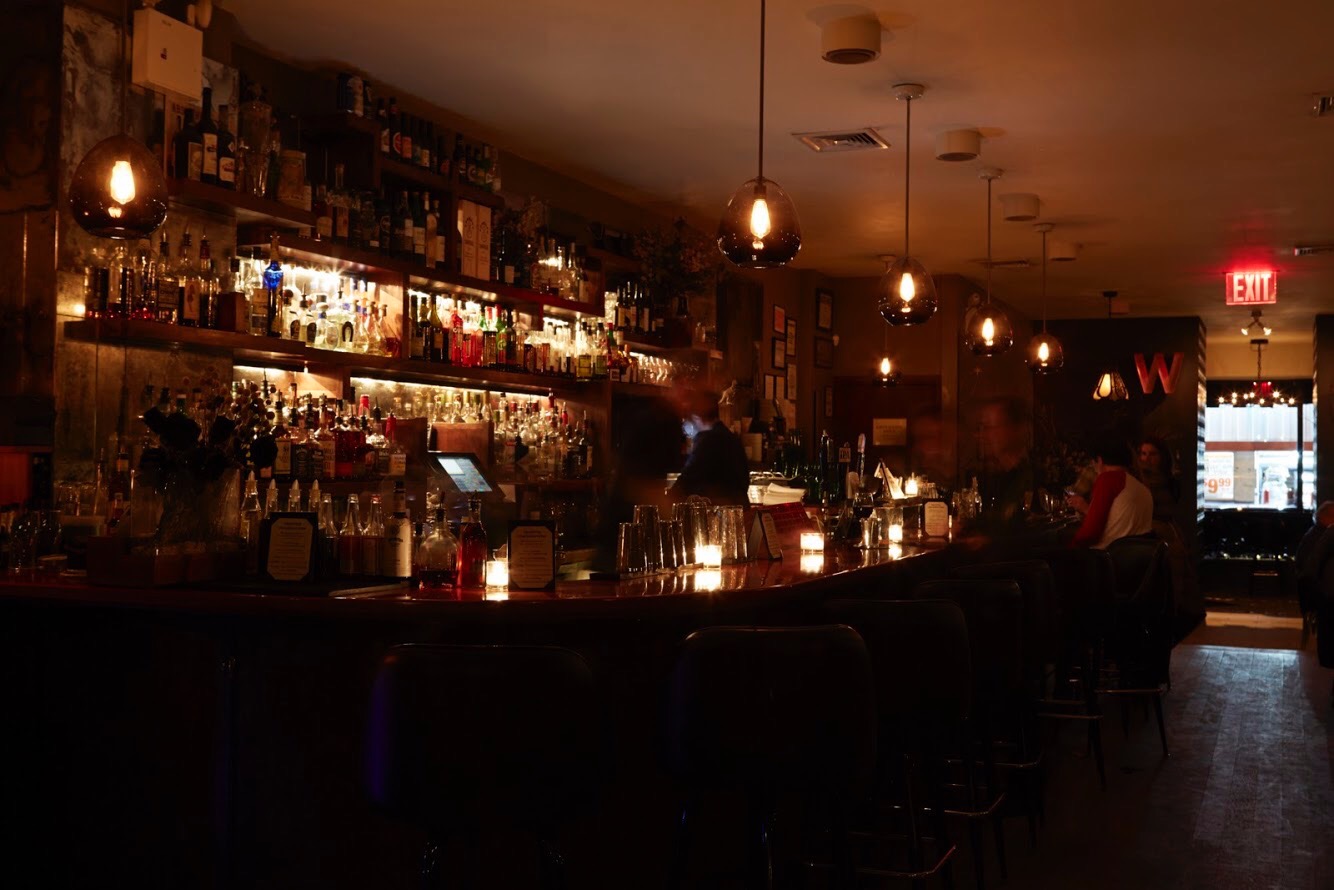 Our pride and passion for creating compelling concoctions is represented in our seasonally driven menu.
School Lunch
Glendalough Poitin, Avua Cachaca Amburana, Finest Roots Diktamo, Creme De Casis
588 Cobbler
Black Bottle Scotch, Amontillado Sherry, Fino Sherry, Peach & Black Pepper Shrub, Muddled Raspberries, Soda
Gentlemen's Julep
High West Double Rye, Bebo Cuban Coffee Liqueur, Amontillado Sherry, Branca Menta, Simple Syrup
Sunblock
Mezcal Union, Cocchi Americano, Chareau Aloe Liqueur, Orange Bitters
The Sun Also Rises
Square One Botanical Vodka, Amaro Nonino, Yellow Chartreuse, Cinnamon Syrup, Angostura Bitters, Prosecco
Gin & Pear
Neversink Gin, Pear Eau De Vie, Italicus Apertivo, Lemon, Honey, Prosecco
Seafarers Milk Punch
Carevedo Pisco, Batavia Arrack, Cognac, Jasmine Tea & Corriander Syrup, Lemon Juice, Pineapple Juice, Clarified (Contains Lactose)
Basic Brunch
Avacado Washed Caravedo Pisco, Banana Liqueur, Amaro Nonino, Dry Vermouth, Simple Syrup, Lemon Juice, Celery Bitters
Sampogna
Jalepeño-Infused Tequila, St. Germaine, Lemon Juice, Honey Syrup
Where There's Smoke There's Fire
Barking Irons, Del Bac Mesquite Smoked Whiskey, Guava Chili Syrup, Pineapple Juice, Lime Juice, Hellfire Bitters
Drinking At The Gym
Bourbon, Lemon Juice, Bell Pepper Syrup, Honey Syrup, Peychaud's Bitters, Tapatio Hot Sauce
Victory Garden
Tomato Infused Goza Tequila, Union Mezcal, Cocchi Rosa, Don Ciccio Fennel Liqueur, Lemon Juice
Hemingway Daiquiri
Atlantico Rum Reserva, Smith & Cross Navy Strength Rum, Luxardo Maraschino Liqueur, Lime Juice, Grapefruit Juice, Absinthe Rinse
Moscow Mule
Wódka Vodka, Lime Juice, Simple Syrup, Fresh Ginger, Pickett's Ginger Beer
Singapore Sling
Thomas Dakin Gin, Benedictine, Cherry Herring, Luxardo, Pineapple Juice, Lime Juice, Angostura Bitters
Michelada
Tomato Infused Goza Tequila, Von Humboldt's Tamarind Cordial, House Made Michelada Sauce, Lime Juice, Pilsner
$

8
Warflag Grandmaster IPA
$

7
Leinenkugel Summer Shandy
$

8
Brewer's Shandy (IPA & Grapefruit Juice)
$

7
Ballast Point Sour Wench
$

8
Two Roads Farmhouse Ale
$

9
Finback (Rotating Varieties)
$

7
King's Highway Rose Cider
$

9
Brooklyn Cider House Bone Dry
$

9
Brooklyn Cider House Half Sour
$

9
The Tex-Mex
Lone Star Bottle & Tequila
$

10
The Feel Good
Forst Lager & Jameson Black Barrell
$

8
The VICE Grip
Old Blue Last & Tequila
$

10 /

$

40
House White Pinot Grigio
$

11 /

$

44
Freynelle Bordeaux Blanc, FR
$

12 /

$

48
St Veran Burgandy, FR
(Can) $7
Bridge Lane Sauvignon Blanc, NY
(Can) $7
$

10 /

$

40
House Red, Carmelle Malbec, FR
$

11 /

$

44
Hautes Noelles Gamay, FR
$

11 /

$

44
Valvigneyre
Syrah, Cotes Du Rhone, FR
$

9 /

$

36
Romio Prosecco, IT
$

52 Btl
Aphros Pan Sparkling Rosé, PT
$

15 /

$

72
Pierre Gimmonet Brut Prm Cru, Champagne, FR
$

10 /

$

40
Chateau La Gordonne Cuvee Chapelle Gordon Cote de Provence
$

15
Braised Short Rib & Fontina
w/ Horseradish Mayo, Peppers, and Onions
$

14
Sicilian Tuna Melt
On Sourdough w/ Capers and White Cheddar
$

13
Ham & White Cheddar
w/ Pickled Onions
$

12
Focaccia Grilled Cheese
w/ Shallot Marmalade
$

12
Grilled Vegetarian Panini
w/ Eggplant, Fennel Confit, Sundried Tomatoes
$

10
Pigs in a Blanket (6)
Hot Italian Sausage Wrapped in Puff Pastry
$

9
Bacon Wrapped Dates (6)
Stuffed w/ Farmhouse Gouda Cheese -8
$

12 Vegetarian /

$

14 w / Bacon
Baked Mac & Cheese
$
12 Vegetarian /
$
14 w / Bacon
$

4
Hard Boiled Eggs (2)
w/ Mustard Mayo
$

8
Mixed Green Salad
w/ Shallot Vinaigrette
$

6 /

$

8
Royal Bakers Pretzel
w/ Mustard or Beer & Cheese Dip
$

14
Smoked Salmon w/ Dill Creme Fraiche, Red Onion Capers & Toast
$

17 Small /

$

32 Large
Salumi Plate
Smoked Tasso Ham, Petit Jesu, Chorizo Secco Served w/ Grain Mustard, Pickles, Marinated Olives, and Toast Small (1-3 people)/Large (4-8 people)
$

15 /

$

28
Mixed Cheese Plate
St. Stephens(Goat, NY), Ewephoria Gouda (Sheep, NL), Shropshire Blue Served w/ Chutney (Blue, Cow, ENG), House-Roasted Mixed Nuts, Honey, and Toast Small (1-3 people)/Large (4-8 people)
$

5
House Marinated Olive Bowl
$

5
Homemade Focaccia Bread
w/ E.V.O.O
$

5
House Roasted Mixed Nuts
$

6 /

$

10
Chocolate Chip
Plate of 3 / Plate of 6
$

6 /

$

10
Peanut Butter
Plate of 3 / Plate of 6
Sunday - All Night Game of Thrones Drink Specials
Monday - All Night Happy Hour
Tuesday - Friday 5:00pm-8:00pm
$

7
Select Wines By the Glass
Wine Lover's Wednesday
2 for 1 Select Glasses & Bottles of Wine 8pm-Close
Reservations
Huckleberry Bar accepts reservations for groups of 6 people or more. The entire venue may be reserved for private events of 50-100 guests.
We can accommodate all kinds of functions such as Birthdays, Engagements, Wedding Ceremonies, Receptions, Baby and Bridal Showers, Graduations, Book and Record Releases, Film Screenings, Fundraisers, and more. We work one-on-one with you to custom tailor your event, ensuring that all your needs—and the needs of your guests—are met and exceeded. Contact us with the form below with your details for an estimate, or to arrange a time to meet in person and discuss the possibilities. We look forward to working with you.
Please note that a 18% gratuity and a 3% facilitation fee will be applied to all private events